13 Apr 2023
Reading : 3mn
Spring forward with color
Seasonal trends in color cosmetics
Spring has always been synonymous with new beginnings. The season is all about growth, transformation, and reinvigoration. With warmer weather quickly approaching, we look to brighten up our clothing and makeup looks. According to many fashion magazines, 2023 is the year of exploration with makeup. We see a full spectrum of trends ranging from the past looks revamped for today to new ones popularized by fashion, entertainment, or social media. Refresh and revamp your makeup routine with this season's trends!
Get Ready, Get Set, Blush!
A look into consumer searches showed that blush products are the second most searched product in the face makeup category after foundation and base products, with an estimated search volume of 683K.(3) Though searches for these products are not expected to increase over last year, they are predicted to peak in July with an estimated 1M searches. Clearly, blushes are a consumer favorite!  But who says blush only needs to stay on the cheeks? This spring, we see refreshing ways to apply blush to the face. (1) Paying homage to the 80's style of application and popularized through TikTok, this makeup look features the extension of blush beyond the cheeks up to the temples and even on the eyelids for a monochromatic yet theatrical look that can help you stand out from the crowd. The best part is that you can make it as subtle or dramatic as you choose.
Use our Cream Blush Stick to help build your perfect blushed look! Emulium® Dolcea MB is added to help stabilize the stick while moisturizing the skin with a softness upon and after application. Adding Acticire® MB helps incorporate two water-based ingredients into this anhydrous formula, Original Extracts™ Kiwi for brightening properties and Gatuline® Spot-Light to reduce age spots. Lipocire™ A SG helps bring a melting sensation as the stick is applied. 
Pout Pop
Bold lips are back! (4) Not really a surprise, but this look always impresses and carries from season to season. Even on the runway, the classic red lip was paired with minimal face makeup to showcase vibrantly colored lips. Formulate your own bold lip product with our Color Shock Lipstick. This lipstick gives lips a vibrant red-orange color with superior shine and complements any complexion. Acticire® MB, a texturizing agent, provides moisturization properties and comfort to the lips. Plurol® Diisostearique CG, a PEG-free, water-in-oil emulsifier, is used as a wetting agent to easily disperse the pigments in the oil phase. Lastly, Gatuline® In-Tense MB is added to bring skin care benefits to the lips by increasing skin firmness and smoothing the lips.
About Brow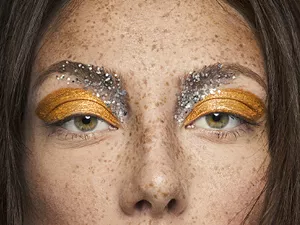 Another trend seen this season is the experimentation with brows.(2) Embellished eyebrows were seen everywhere on the runway this season. Models were seen sporting glitter, bedazzled, bleached, and even red eyebrows to emphasize their arches. Brow pomade is the perfect product to utilize when experimenting with brows. It can be used to shape your brows and adapted to provide a glitter or temporary color look to eyebrows. Try our brow pomade, Beauty in the eye of the Browholder, to experiment with different brow looks. The formulation can easily be adapted to include other pigments or glitters for a bolder arch. The formulation is created with Emulium® Dolcea MB, our most robust, naturally derived oil-in-water emulsifier.
This emulsifier creates a thick product and provides intense and long-lasting moisturization to dry brows. Definicire®, a texturizing agent, brings hair care properties to the eyebrow with hair-strengthening properties. Original Extracts™ Rice is rice water with protection properties and is utilized in hair care to improve the appearance of hair.
(1) https://www.harpersbazaar.com/beauty/makeup/g41339490/spring-2023-makeup-trends/
(2) https://www.allure.com/story/makeup-trends-2023
(3) SPATE NYC
(4) https://www.harpersbazaar.com/beauty/makeup/g43146580/2023-makeup-trends/