Trends
ERI 360
Responsible beauty
Committed to Sustainability
Sustainability has become a part of our everyday vocabulary. Spanning from the food to fashion industry, we have heard from many companies taking steps to minimize their impact on the earth. And the personal care industry is no different, which has reduced its environmental impact for several years now. From sustainable packaging to waterless formulations, our industry is generating innovative ways to use less and recycle. But what about the ingredients themselves? How are ingredient manufacturers taking ingredient sustainability to the next level? 
ERI 360°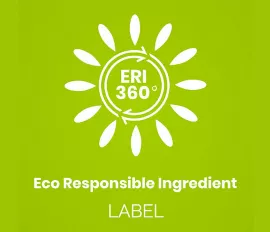 With increased consumer demand for transparency behind the sourcing and processessing of eco-extracted ingredients, the ERI 360º label was developed. ERI, which stands for Eco Responsible Ingredient, is a label is designed to help companies assess the level of social and environmental responsibility of a cosmetic ingredient, along with its naturality. It also evaluates the sustainability aspect of the processes involved: from the harvest to manufacturing of the end product, making it's scope from cradle to gate. Utilizing existing international agreements and standards such as ISO or IUCN (International Union for Conservation of Nature), 100 SMART (Specific, Measurable, Achievable, Recognized, and Transparent) indicators were developed to provide a clear picture of the full eco-responsibility of an ingredient.
Each indicator is scored between 0 to 5 according to different threshold. The certification is then achieved once a self assessment by the ingredient manufacturer, evaluation by a third-party auditor, and an on-site audit are completed.  
Gattefossé gets Silver & Bronze
In 2021, Gattefossé was awarded three labels for three of our actives, ensuring the naturality, responsible sourcing, and manufacturing for each. Moreover, these labels help formulators choose eco-responsible products that meet consumer needs with confidence.
Gatuline® Link n Lift & Gatuline® Renew were both awarded the silver label, with scores of 91 and 89 out 100, respectively. Gatuline® Link n Lift, an anti-aging active derived from Horse Chestnut Flowers by our NaDES technology. It firms the eye contour area by reinforcing the dermal-epidermal junction  while significantly reducing eye contour wrinkles to reveal a smooth and younger look. Gatuline® Renew, an extract of Japanese cedar buds, kickstarts the cell renewal process and strengthens the barrier function to make skin softer, smoother, and more supple. 
EnergiNius®, an organic certified active derived from Indian Ginseng and extracted with our NaDES technology, was awarded the bronze label, scoring of 82 out of 100. This active ingredient protects the skin from the damages of screen-emitted artificial visible light to boost skin vitality and reveal a healthy glow!